The Kansas City Chiefs are Super Bowl LVII champions, making history in more ways than one. In winning the Super Bowl twice in the last four years, the Chiefs enter the discussion as one of the greatest teams of all time.
Meanwhile, the game was the first to take place in a legal sports betting state, and it was the most bet-on event in US sports betting history. Regrettably, thousands of Missourians missed out on the action.
Missouri missed out on millions during Super Bowl weekend
Despite the hometown Chiefs playing in the Super Bowl, less than half of the Kansas City metro area got to bet on the game, as Missouri sports betting remains illegal inside state lines. Some bettors went across the border to Kansas (and Illinois, etc.). Many more opted to stay on the sidelines or take their business to riskier, unregulated operators.
As a result, sportsbooks lost out on at least $25 million in Missouri wagers, and the state missed out on an opportunity to collect hundreds of thousands of dollars in a single day. When it comes to Super Bowl betting throughout the weekend and in the weeks leading up to the Big Game, this amounts to millions in lost tax revenue for the state of Maryland.
More than a quarter-million Missourians tried to bet on the Super Bowl
This inability to bet on the Super Bowl did little to deter Missourians from trying to get in on the action.
GeoComply data revealed more than 252,000 unsuccessful sportsbook login attempts from Missourians between the start of Saturday and the end of the game.
While this number certainly represents some attempts from people who tried and failed multiple times, it nevertheless shows the vivid demand for sports betting in Missouri. In fact, that number accounts for almost one-eighth of the 2.2 million geolocation checks on the Kansas side of the metro area, where betting is legal.
More than 180,000 sportsbook accounts were active in Kansas on Saturday and Sunday. No information on how many belonged to Missouri addresses, but if Missouri were to legalize sports betting, its activity from Kansas City would equal or exceed that of Kansas.
The GeoComply chart below offers a timelapse of approved Kansas transactions and blocked Missouri transactions during Super Bowl weekend.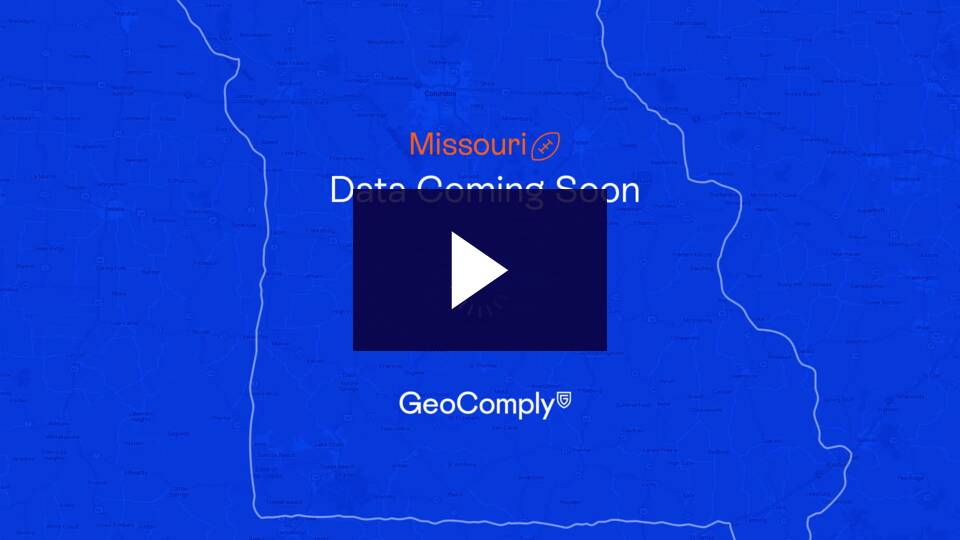 Don't forget about the rest of Missouri
Missouri's overall population exceeds 6 million. That's more than double the population of Kansas, which has just under 3 million residents.
Kansas City is one part of the equation, with its metro area housing around 2.2 million. Just under 1 million people live on the Kansas side, with the remaining 1.3 million in Missouri.
Comparatively, that means KCK represents one-third of Kansas's population. Meanwhile, KCMO represents less than one-quarter of Missouri's — amounting to nearly 5 million more residents throughout the rest of Missouri.
Super Bowl projections expect Kansas sportsbooks to welcome over $17 million in wagers for the Super Bowl. States with slightly larger populations than Missouri, such as Indiana and Tennessee, projected around $35 million in total bets.
With legal sports betting markets already thriving in Kansas and Illinois, Missouri's entry into the industry likely wouldn't disturb surrounding markets. Still, it would probably take a couple of years for the market to become mature enough to challenge $30 million in Super Bowl bets – even with the Chiefs involved.
When will Missouri legislators be convinced?
Sports betting continues to be a topic of discussion in Missouri, with two new bills recently being introduced at the state's House of Representatives Emerging Issues Committee.
State legislators need only look at GeoComply's pin-drop map to see what Missouri could capitalize on. As such, a general sentiment of hope exists that representatives will vote in favor of legalizing sports betting during this year's session.
After all, money talks.
In Nevada, sportsbooks profited $11.3 million from a $153.2 million handle, equating to a 7.4% hold. While Missouri won't come close to those figures, a 7.4% hold on a $25 million handle equates to $1.85 million in revenue, taxable at 10% to earn the state $185,000.
Assuming most bettors would have favored the Chiefs, the books may have done slightly worse in Missouri. But if the Eagles won, they could have made a killing.
Regardless of whether or not the Chiefs have a chance to repeat next year, Missouri has two options: either sit on the sidelines while surrounding states set new betting records, or get in the game and start scoring.